WOOD STORM DOORS
Storm doors can provide modern or traditional style to your elevation in addition to energy efficiency and an unobstructed view of your entry door. The permanently fixed safety glass panel allows for maximum light, viewing and security, and can utilize narrow stile and rail construction for added durability.
Traditional storm doors feature interchangeable wood sashes, with putty-glazed true divided lites and wood-framed screens, which offer ventilation for your home.
FEATURES OF STORM DOORS
Architectural design that can match the style of your home or business, inside and out.
Traditional, Rustic or Modern styling.
Single panels up to 6 feet wide, and up to 10 feet high.
Engineered core for strength and energy efficiency.
Mortise and tenon joinery provides extra stability.
Stile and rail construction.
CNC machined for precise fit and finish.
Built to witstand the extreme highs and lows of the Canadian climate.
Sustainable materials can be repaired, refinished and repainted.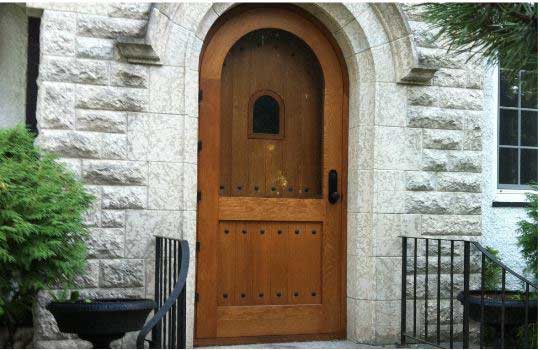 FIXED
Fixed glass storm doors offers protection from the elements and beautify your entryway through the use of architectural hardware and a wide variety of species and finishes. We can create different shapes and we offer storm doors for any size and shape of opening.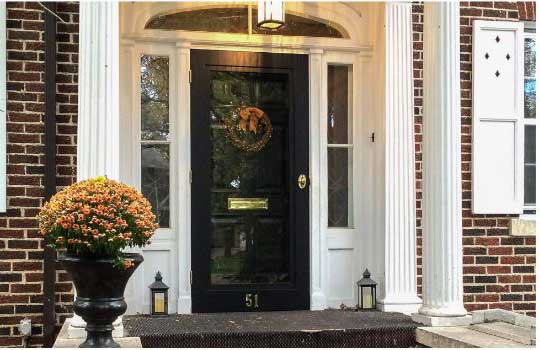 INTERCHANGEABLE
Interchangeable storm doors offer ventilation and protection from the elements with a removable wood screen and glass panel. They maintain a traditional style and offer unique perspectives with a combination of architectural hardware and a variety of wood species.
Fixed
Interchangeable
*Our design team can match any photograph, or help you design something completely unique.
Wood Options
Wood has one of the greatest natural appeals, and offers a warmth and beauty impossible to recreate. Species, grain and colour can vary significantly, thus creating the unique, natural look you can achieve only with wood. The variety of species and types of wood grain allows for flexibility when considering the wood best suited to your project needs.
Learn more about the unique properties of wood here.
FSC certified wood available.
Shaker Profile – Fixed
Sharp, clean edges for contemporary and craftsman designs.
Available in  13/4″ and 1 3/8″thickness.
Shaker Profile – Interchangeable
Ogee Profile – Fixed
Gently curved edges for traditional and contemporary designs.
Available in  13/4″ and 1 3/8″thickness.
Ogee Profile – Interchangeable
Decorative Glass
Whether you are looking to capture natural light, prefer the privacy of obscured glass or the beauty of decorative glass, we can meet the unique needs of each project. Standard glazing for storm doors is single pane Low-E.
Screens
For storm doors with interchangeable panels, mesh screens are available for additional ventilation in the spring and summer months. Black fibreglass or vinyl coated PET mesh are our standard options.
True Divided Lites (TDL)
Multiple individual sealed units, glazed separately between muntin bars. True divided lites are a traditional feature on historic windows and doors
TDL bars are available in a standard width of 11/4″.
TDL construction is available for doors with insulated glass(IG).
*Custom TDL widths are available.
Stained Wood
When compared to painting or staining on the job site, optional factory-stained finishes offer consistent quality and performance. Before final assembly, every piece of wood receives even coats of conditioning and stain, with two coats of clear finish, to create a consistent, durable and high-quality finish that highlights the natural beauty, texture, and grain of wood.
All of our stains are mixed by our in-house finishing department for a truly custom, factory finish. Choose from our standard stains – or we can match from any existing stain in your home, or create a custom stain for your project.
Painted Wood
Painting on the job site or scheduling off-site finishing is an extra step that takes time and coordination. choose our primed white or white painted finish on any wood species. You can count on consistency with our process, as every piece of wood receives a coat of prime and is sanded before being painted. We use Dulux paint for high-quality finish and longevity on exterior and interior surfaces. For additional colours available, see the full Dulux colour pallette here.
We can match from any existing paint colours in your home, or create a cutom colour for your project.
* All of our finishes are available on exterior or interior surfaces; split finishes are also available.
** Finish samples are approximate and colors on screen can vary. Contact us for more information on stain and paint samples.
When choosing every day hardware, the right set not only looks goos, but feels good – and holds up to daily demands of security and durability for your home. Our versatile range of hardware can match any architectural style or lifestyle need.
For our full range of available hardware, see our hardware partners, or contact us.
DOORBELLS
A matching doorbell place can provide extra entryway elegance, as well as the durability to withstand every day use.
ACCESSORIES
Enhance your exterior style and functionality with additional hardware accessories.
EXPLORE OUR ARTISAN DOORS
Handcrafted, architectural grade entryways for any elevation.